If you have an acute condition such as an injury, or migraine, have immediate fertility needs such as ovulation, or you are having an IVF procedure and do not see space available, please call our office and let the front desk know your situation is urgent. We will do everything we can to accommodate you.
We treat a variety of clients with many different needs. We offer private room treatments or a community environment with four La-Z-Boy chairs.
Who might prefer a Private Treatment Room and Table?
If you prefer privacy, need to lie flat on your stomach or back; or if we are treating with the Dry Needling technique, or treating you locally in an area normally covered by clothes such as your low back or gluteal/buttock region, please request a table. For men receiving fertility treatments, and women having treatments pre-ovulation, please request a table.
Who might prefer a La-Z-Boy Chair?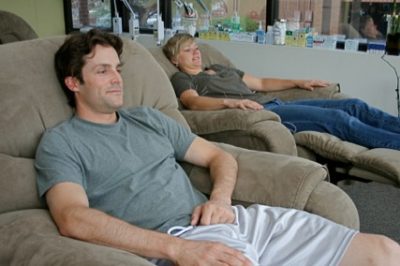 If you have an injury that makes it difficult to lie flat, please request a chair. If you are post- surgical (especially knees and shoulders) the La-Z-Boy chairs will allow you to relax while the injured area remains elevated and supported. If you are in your second or third trimester of pregnancy, the chairs will provide a comfortable environment for you to have your treatment. If you prefer to look at a nice view in a lighter room, you will enjoy the chair room. There may be other people in the room during your session, but people are respectful and quiet. If there are issues you need to discuss in private with your practitioner, we are happy to step into a private room to discuss your case before you have your treatment. If you fit the criteria above, please call our office at 303.665.5515 and we will make sure your initial treatment is accommodated in a chair.
In our private rooms, you can request your music. In the community style room with La-Z-Boys, typically the first person in the room requests the music. Clients are welcome to bring in their own style of music, or listen to their own material (music, podcasts, meditations, books on tape, etc.) with headphones.
Out of respect for our other patrons, if you are feeling sick or under the weather, we ask you to cancel your appointment and rebook a Telehealth appointment for a Chinese herbal prescription. We treat many people with smell sensitivities (migraines, head injuries, and pregnancy). Please refrain from wearing perfume or strong smells in the clinic. Thank you for your consideration.
Patient forms
We are now on Electronic Health Records. All these forms are available through the Patient Portal. When possible, please fill these forms out online. If you are having trouble logging in, feel free to download and fill out the disclosure statement and intake forms and bring them to your first appointment. Thank you for choosing the Acupuncture Clinic of Boulder, Inc.
When doing a hospital visit, please fill out the BCH Consent for Treatment and have the medical staff scan it into your chart as well as giving your practitioner a copy.
Cancellation Policy
The Acupuncture Clinic of Boulder, Inc. requires 24 hours (business day) notice for cancellations. If less than twenty-four hours notice is given, the patient will be charged the full price of their visit. Your scheduled appointment time is reserved just for you, and we frequently have a waitlist. We try not to overbook appointment times in order to provide excellent acupuncture care and ensure we have sufficient time to adequately treat our patients.
This policy allows other patients the opportunity to schedule in the time slot you are unable to keep. Therefore if you are unable to come, you will be charged as if you had attended the appointment. This charge is your financial responsibility and you will be required to pay this cancellation charge before your next scheduled appointment. We are unable to bill your insurance for missed appointments.
Please call 303.665.5515 when cancelling an appointment, please do not email.
Thank you for respecting our policy. We look forward to treating you!
Snow Days
Please pay attention to the weather! We understand Colorado weather is unpredictable. If you live on a big hill and/or typically are unable to leave your residence on snow days, please call us to cancel and open this time slot up for other people. If it turns out to be a mild storm and you wish to come in, give us a call same day and we will try to accommodate you.