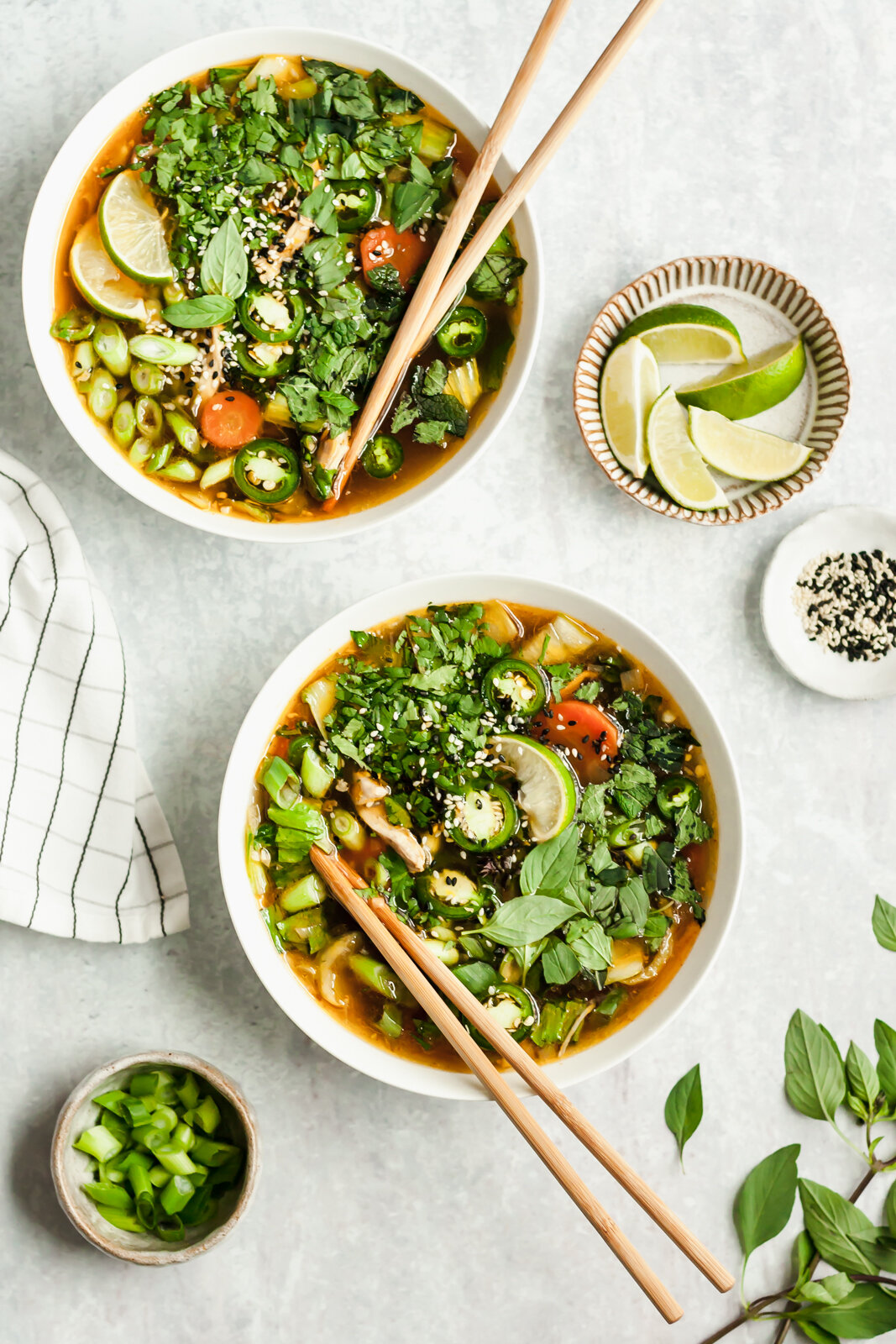 This nourishing Asian soup resembles Pho and can be made at home. Bok Choy, lemongrass, green onion, garlic, ginger, and fresh herbs like cilantro, mint and basil make the soup POP! If you are missing any ingredients at home, don't worry, the soup will still be delicious with omissions.

Ingredients:

1 1/2 tablespoons toasted or dark sesame oil, divided

1 pound boneless skinless chicken thighs

Freshly ground salt and pepper

6 cloves garlic, minced

2 bunches of green onions, white and green parts divided

1 large carrot, slice1 1/2 cups Daikon radish small peeled and cut into large chunks – optional

1 tablespoon freshly minced or grated ginger

6 cups chicken broth

1 tablespoon Thai chili paste (or ½ tablespoon sriracha works too)

¼ cup gluten free low sodium soy sauce or coconut aminos

2 stalks lemongrass, trimmed and outer layers discarded, halved lengthwise – optional

6 bok choy ribs with leaves, coarsely chopped

2-3 teaspoons fish sauce – can omit, will still taste yummy without – For serving:

½ cup fresh chopped cilantro

¼ cup mint leaves, torn -optional/can omit-

½ cup torn Thai bail (regular basil will also work)

Green onion (just the green part of the onion)

1 Thai chile, to garnish (can also sub jalapeno, or sprinkle of red chili flakes)

Sesame seeds (white or black), for garnish – optional

Lime wedges, for garnishing

Optional for serving: 8 ounces rice noodles, cooked

Instructions:

Add 1 tablespoon sesame oil to a large dutch oven or large pot and place over medium high heat. Add in chicken thighs and generously season with salt and pepper. Brown chicken on both sides. You don't need to cook the chicken all the way, just get it nice and golden brown for flavor purposes. Transfer chicken to plate and set aside.

In the same pot, add the remaining ½ tablespoon sesame oil. Immediately add in minced garlic, white part only of the green onions, sliced carrot, radish, and ginger. Saute for 3-5 minutes, the slowly add in the chicken broth, thai chili paste and soy sauce. Add the chicken thighs back to the pot and place two lemongrass stalks in. Bring to a boil, then reduce heat and simmer for 25 minutes.

After 25 minutes, use a slotted spoon to remove chicken from the pot and transfer to a cutting board. Use two forks to shred chicken. Before adding chicken back to the pot, remove the lemongrass stalks and discard. If you'd like to add rice noodles, now is the time to do so. Add them to the pot along with the bok choy and fish sauce and simmer for 5-7 more minutes.

Pour into bowls, then garnish with a few cilantro, mint, Thai green basil, green scallions, Thai chile, sesame seeds and a fresh squeeze of lime.

About the Nourishing Effects:

Carrots have been compared to ginseng in Chinese Medicine. They are a great immune booster. They enter the Heart and Spleen meridians and their orange color is a combination of yellow, the Earth element (Spleen meridian), and red, the Fire element (Heart meridian). Carrots nourish the energy (Qi) and Blood of the entire body. Carrots are rich in betacarotene, vitamin C, B, iron, magnesium, phosphorus, calcium and potassium.

Daikon radish is considered a superfood in many Asian cultures because as it helps to balance the digestive system, boost the immune system, and gently cleanse the body.

Green Onion, scallions, have many medicinal benefits. They are thought to help clear out any pathogens from the body; their white bottoms are more warming in nature, benefiting the Lung. The green scallion tops travel to help circulate and balance the Liver and Gallbladder meridian, which is perfect for Spring!

In traditional Chinese medicine, garlic is warming in nature, benefits the digestive system, promotes the circulation of Qi and Blood and helps remove masses from the abdomen.

Ginger is also considered a warming herb and benefits the digestive system and the lungs. It nourishes energy, promotes circulation, and can treat phlegm in the lungs and cough. It also helps with women's health to calm nausea during pregnancy as well as decrease menstrual pain. ( Rahnama P, Montazeri A, Huseini HF, Kianbakht S, Naseri M. ( 2012 ). Effect of Zingiber officinale R. rhizomes (ginger) on pain relief in primary dysmenorrhea: a placebo randomized trial. BMC Complement Altern Med. , 12:92. doi: 10.1186/1472-6882-12-92.)

***For female patients who want to tailor a soup for health and longevity, a traditional Chicken Soup recipe can be substituted from the recipe above, and a combination of 4 traditional Chinese herbs from a blood nourishing formula can be purchased and added***. These herbs are not recommended for women with a history of breast, uterine, or ovarian cancer or patient's on blood thinners. These herbs can be ordered here.

Recipe adapted from Ambitious Kitchen.