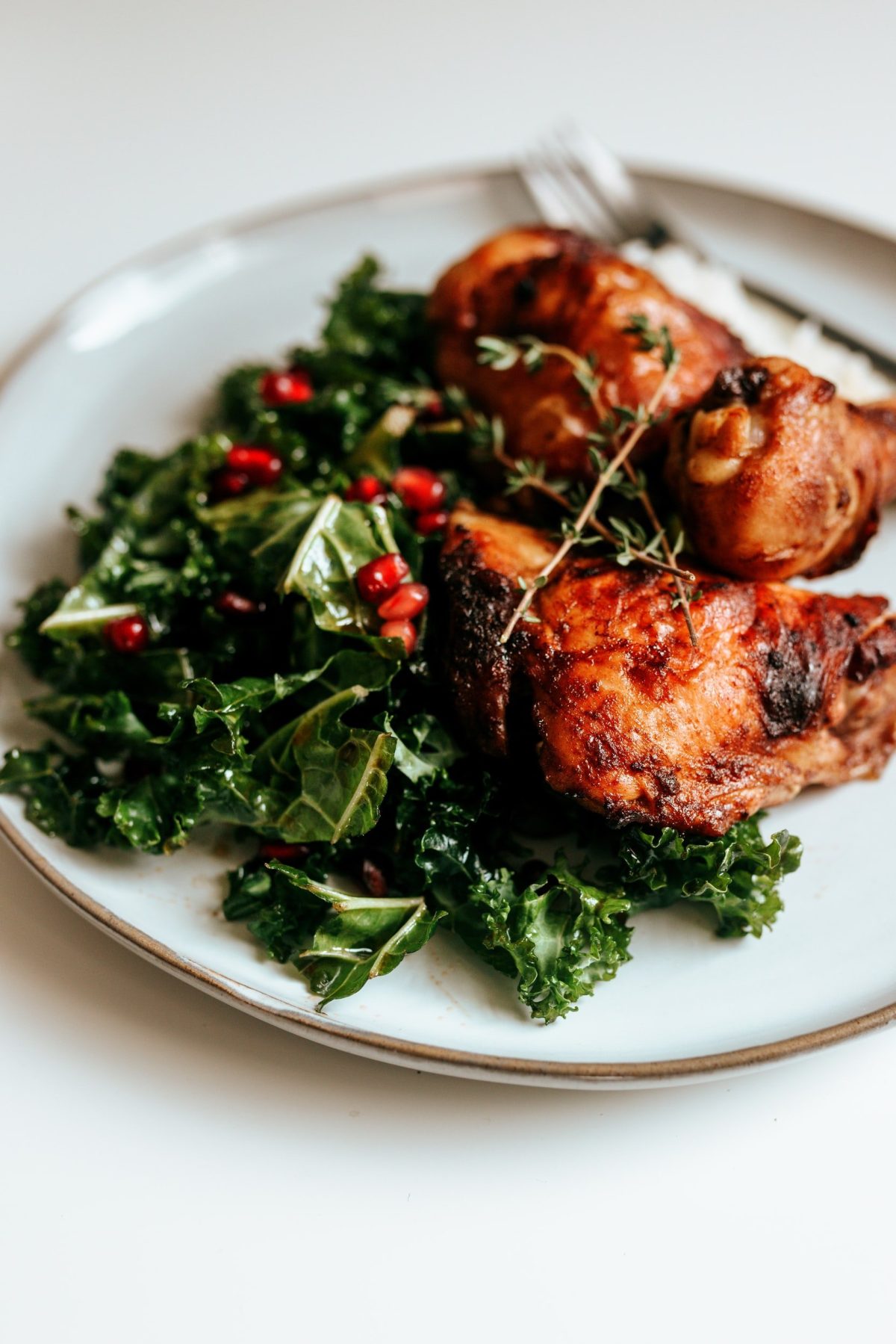 12 pieces skinless bone-in chicken, white or dark meat
Kosher salt and freshly ground black pepper

2 onions, peeled

2 cloves garlic, peeled

Leaves from 6 sprigs fresh thyme

Needles from 2 sprigs fresh rosemary

3 tablespoons olive oil

1 (15-ounce) can plain pumpkin puree (or fresh butternut squash)

1 cup red wine * (for those prone to migraines, we recommend substituting with broth or unsweetened fruit juice)

¼ cup honey

1 cup dried Mission figs or 2 cups fresh figs, stemmed

2 cinnamon sticks, cracked

1 teaspoon ground allspice

Slivered almonds, toasted
The ultimate in richness and flavor. This beautiful recipe is a staple at our holiday meals. It is a perfect example of elevating chicken to the next level. The combination of red wine, pumpkin, and figs, along with fresh herbs, really creates a magical dish. Proof that you don't need to serve expensive cuts of meat to make it impressive.
Season the chicken pieces with salt and pepper and set aside. Combine the onions, garlic, thyme, and rosemary in the bowl of a food processor and pulse once or twice; do not allow the mixture too wet
Heat the oil in a heavy skillet or Dutch oven over medium-high heat. Add the onion mixture and sauté until soft and fragrant, about 6 minutes. Push the onions to the side, add the chicken in batches, and brown for several minutes on all sides.
Meanwhile, in a large bowl, whisk together the pumpkin puree, red grape juice, honey, figs, cinnamon, allspice, and 1¼ cups water. Pour over the chicken to cover. Bring to a boil, then reduce the heat to medium. Cover and cook until the chicken looks plump and is cooked through, and the aroma is too much for you to handle, 45 minutes for white meat and up to 1 hour for dark meat. Discard the cinnamon sticks. Place the chicken pieces on a serving platter, spoon the sauce over, and sprinkle the toasted almonds over the top.
Properties of foods according to Chinese Medicine:
Onions – regulate qi and blood circulation. It also helps to resolve phlegm and dampness, and expel cold. Good to eat if you feel like you are on the verge of getting sick.
Garlic – Da Suan – Expel parasites, warm, acrid, reduce swellings and abscesses, reduce stagnation and toxicity, support digestion, treats shellfish poisoning, strengthen immunity.
Thyme – Antispasmodic, expectorant (mucus-expelling), and antibacterial actions, and it is considered helpful in cases of bronchitis.Rosemary – Invigorate the blood.
Rosemary: Relaxes smooth muscle spasm and the smooth muscles of capillaries and arteries, thus enhancing blood flow. It is used to increase circulation to the head and to improve mental clarity, improve memory, and improve vision.Pumpkin
Honey – Feng Mi – Sweet and neutral, Qi tonifying effect. Moistening laxative, downward draining, nourishes the lungs to stop cough, supports the stomach.
Figs – Wu Hua Guo – used for constipation, sore throat, diarrhea, dry cough, stimulates appetite, bloating, builds strength, indigestion, sluggish liver, wheezing, promotes lactation, bruises, insect bites, tumors
Cinnamon sticks – Rou Gui – warm the interior and expel cold – acrid, sweet, hot – warms the body for people who feel cold throughout their body, helps with painful periods (when someone would feel better putting a heating pad on their abdomen), some types of diarrhea, anti-bacterial.
Almonds – Sweet and neutral, known for its ability to tonify qi and jing. It also helps to regulate qi circulation and resolve phlegm.
Recipe taken from: Jamie Geller. All modifications are made in italics.