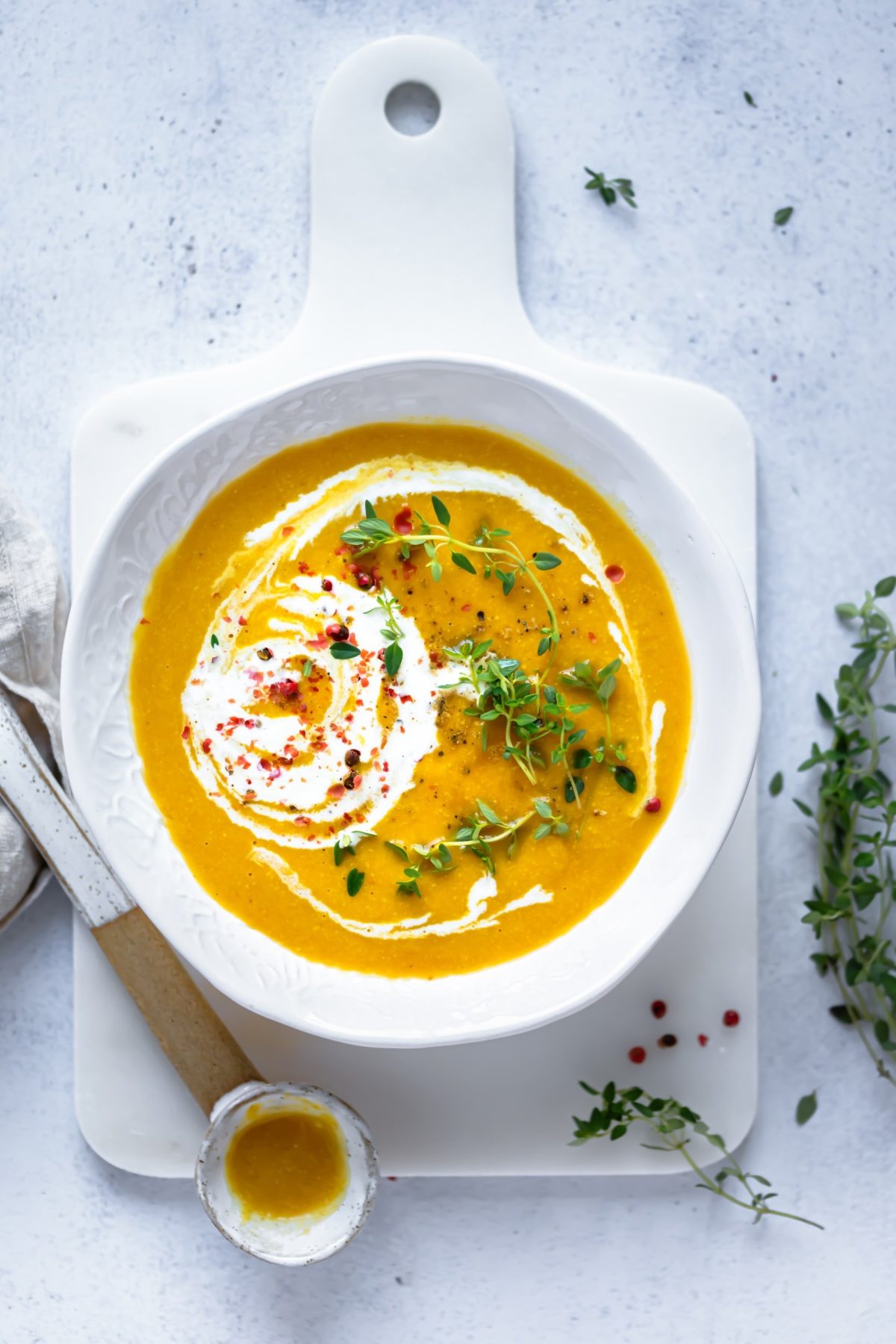 Root vegetables are grown underground and include onions, garlic, carrots, potatoes, sweet potatoes, cassava, Jerusalem artichoke, turnips, rutabaga, fennel, ginger, turmeric, parsnips, radishes, and beets, among others. In cooler climates, they are typically considered autumn and winter seasonal vegetables. They offer a variety of flavors and can be prepared in many ways. They are also dense in essential nutrients and come with a number of health benefits. Different colors signal different nutrients, vitamins, and minerals. In general, root vegetables are a good sources of: potassium, folate, complex carbohydrates, fiber, Vitamins A, B, and C, and manganese.
This recipe in particular, highlights several delicious foods that can help stave off a cold and strengthen your immune system. In Traditional Chinese Medicine (TCM), there are different categories of herbs prescribed to help different conditions. Some herbal formulas work with internal conditions such as poor digestion, absent or painful menstruation, and low back pain. These each require their own specific "recipe". To strengthen the immune system we "tonify the Qi", and to prevent illness when you are just starting to feel under the weather, we "vent the skin" and cause sweating. Shallots, garlic, curry spices, and cinnamon are all herbs that kill viruses and parasites and also have the ability to increase sweating. In TCM if you are on the verge of getting sick, inducing sweating can strengthen the Wei Qi.
In Traditional Chinese Medicine, the immune system is called Wei Qi (pronounced "way chee"). The Wei Qi is closely associated with the internal organs, specifically the lungs. When the energy of the lungs is well-balanced, Wei Qi is strong and can easily fight off any external attacks. In Traditional Chinese Medicine, the lungs dominate the skin and breathing. If lung function is deficient or compromised in any way, then the body is more open to external pathogens like viruses and bacteria. Common symptoms of decreased Wei Qi or immunity include coughing, sneezing, runny nose, watery eyes, sore throat, headaches, fever and/or chills.
An old proverb says, "it is better to close the door than kill the guest." Acupuncture and Chinese herbs truly shine in strengthening the immune system. Before allergy season and before a regular cold and flu season, we recommend clients come in for acupuncture one time per week for four weeks prior to the height of the season to help prevent an overactive inflammatory response. During the pandemic we counsel clients on the benefits of good sleep, nutrition, and regular acupuncture treatments to reduce stress, and regulate your hormonal and immune balance. We continue to prescribe Chinese herbs and help our community achieve their optimal health along with ameliorating early symptoms and recovery of colds, flus, and COVID. The recipe below treats food as medicine. We hope you enjoy this delicious and nutritious meal.
Curried butternut Soup
Ingredients:
1 Tbsp coconut or avocado oil

2 medium shallots (thinly diced)

2 cloves garlic, minced (2 cloves yield ~1 Tbsp or 6 g)

6 cups peeled & chopped butternut squash (1 small butternut squash yields ~6 cups)

1 pinch each sea salt + black pepper (plus more to taste)

1 1/2 Tbsp curry powder

1/4 tsp ground cinnamon

1 14-ounce can light coconut milk

2 cups vegetable broth (DIY or store-bought)

1-3 Tbsp maple syrup (or sub coconut sugar)

1-2 tsp chili garlic paste (optional)
FOR SERVING optional
Toasted pumpkin seeds

Chili garlic paste

Full-fat coconut milk
Instructions
Heat a large pot over medium heat.

Once hot, add oil, shallots, and garlic. Sauté for 2 minutes, stirring frequently.

Add butternut squash and season with salt, pepper, curry powder, and ground cinnamon. Stir to coat. Then cover and cook for 4 minutes, stirring occasionally.

Add coconut milk, vegetable broth, maple syrup or coconut sugar, and chili garlic paste (optional – for heat).

Bring to a low boil over medium heat and then reduce heat to low, cover, and simmer for 15 minutes or until butternut squash is fork tender.

Use an immersion blender, or transfer soup to a blender, and purée on high until creamy and smooth. If using a blender, return soup back to pot.

Taste and adjust seasonings, adding more curry powder, salt, or sweetener as needed. Continue cooking for a few more minutes over medium heat.

Serve as is or with garnishes of choice (options above). Store leftovers covered in the refrigerator for 3-4 days or in the freezer up to 1 month. Best when fresh.
Video
Resources: