Modified from Sally's Baking Addiction blog.
In the time of COVID we are all looking for ways to get outside, find the sun, feel a bit carefree, and find ways to improve our energy and immune systems. Nuts and seeds have a benefit of adding many trace minerals and nutrients to our diet. They also provide healthy fats to nourish our skin, boost our mood, and decrease inflammation. To focus on and improve men's health, we took this great Chocolate Cherry Almond Snack Bar recipe from Sally's Baking Addiction and added a few of our own ingredients. Our additions and the reason for adding them follow the recipe. In the coming weeks, we hope you get outside and take advantage of all the beauty Colorado has to offer.
Prep Time: 10 minutes
Cook Time: 20 minutes
Total Time: 2 hours, 30 minutes
Yield: 12 bars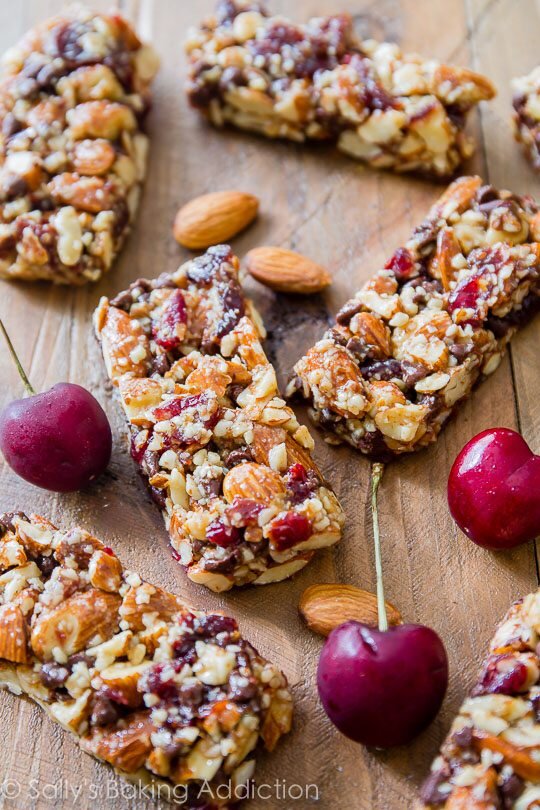 Ingredients
1/3 cup (114g) honey or brown rice syrup*

1/4 teaspoon pure vanilla extract

1/3 cup (40g) almond meal*

1/8 teaspoon salt

1 Tablespoon (15g) almond butter

2 cups (280g) whole almonds, roughly chopped

1/2 cup (60g) dried cherries, roughly chopped

1/3 cup (58g) mini chocolate chips

OUR ADDITIONS:
Instructions: Preheat oven to 300°F (149°C). Line an 8 or 9-inch square baking pan with parchment paper with enough overhang on the sides to easily remove the bars from the pan. Set aside.Using a rubber spatula or wooden spoon, mix the honey, vanilla, almond meal, salt, and almond butter together until combined. Fold in the almonds, cherries, and chocolate chips until combined.Transfer mixture to prepared baking pan and press very firmly into an even layer. You really want it packed in tight- as tight as possible. Bake for 20 minutes. Remove from the oven and allow to cool completely in the pan set on a wire rack for 1 hour, then transfer to the refrigerator to chill for 1 more hour. This helps firm up the bars which makes them stay compact. Remove bars from the pan using the overhang on the sides and cut into bars. Individually wrap each bar in plastic wrap or parchment. Store at room temperature for 1 week or in the refrigerator for up to 2 weeks. I find they get a little sticky at room temperature over a few days, so I prefer the refrigerator.
Notes
Freezing Instructions: These bars are freezer friendly. After wrapping individually, freeze for up to 3 months and thaw before enjoying.

Sweetener: I do not suggest a thinner sweetener like maple syrup or agave– honey or brown rice syrup is perfect.

Almond Meal: You can use store-bought almond meal or almond flour, or you can make your own. Start with 1/4 cup of slivered, sliced, or whole almonds. Pulse them in a food processor until a crumbly meal has formed. Do not run the food processor continuously; you may end up with almond butter. Little pulses are best. You will end up with around 1/4 cup almond meal.
Did you make this recipe?
Tag @sallysbakeblog on Instagram and hashtag it #sallysbakingaddiction